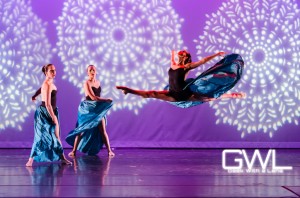 I always get asked if my dancers participate in competitions.  My answer is always no, they participate in something much more life-altering.  Last weekend I took my dancers to the Regional Dance America Festival for the Northeast which was held in Harrisburg, PA.  It is the highlight of their year and what they work towards.  In fact, for the past two years, all of our seniors have opted to miss their own high school graduations in order to attend this event which I think alone speaks to the significance of this event in their young lives.  So what makes this experience and organization so important?
What is RDA?  Regional Dance America is a non-profit organization consisting of 86 pre-professional companies from across the United States.  You must audition to become a part of the organization which is what helps it maintain its high standards.  There are 5 regions that have their own rules and regulations including: Northeast, Southeast, Mid-States, Southwest and Pacific.    Each year, each region picks an adjudicator.  That adjudicator visits each member company, watches a ballet class and the performance of several works.  The adjudicator then gives each company a report with invaluable feedback and chooses the best works from each company to be performed at the Festival for their region.  Sometime in the spring, each region hosts a festival that lasts three days.  The dancers take classes from world-renowned master teachers during the day and take turns performing for each other in the evenings.
The History.  Regional dance was a movement that began in the 1950's when great dance could only be seen in big cities like New York and San Francisco.  The movement was supported by George Balanchine himself and other greats like him who believed every American city deserved first-rate dance training.  Many professional dance companies around the country began as part of this organization and then made the leap into the professional arena including: Boston Ballet, Sacramento Ballet, Pennsylvania Ballet, Dayton Ballet, Atlanta Ballet, Dayton Contemporary Dance Company, Washington Ballet and Philadanco, to name just a few.
The Affiliations: RDA does not just support dancers.  From very early on, it saw the importance of supporting young choreographers as well when Josephine Schwartz of Dayton Ballet began a showcase for young choreographers that eventually became the National Choreographic Intensive.  Each year, at the end of each Festival, awards are given to the best works of choreography presented at the Festival.  There is an Emerging award for young choreographers and Project Tier award for older choreographers. Both come with a full scholarship to attend the National Choreographic Intensive where these choreographers create new works on budding young dancers and are critiqued on their efforts by masters in the field of choreography, helping them to be inspired, supported and pushed to the next level in their career, as well as giving them national exposure.
RDA has also been affiliated since the 90's with International Ballet Competition which is the Olympics of Ballet, being held every 4 years.  Dancers from around the globe come to compete for medals as well as scholarships and jobs.  Any RDA member can attend the summer program associated with the competition without having to audition. IBC also gives scholarships to their program exclusively to RDA dancers.  Furthermore, each region chooses their best work to represent them and those works are performed at the competition alongside some of the best dancers in the world.
*I'm lucky because I really have gotten to experience this organization from the inside out.  I grew up in an RDA company and now I co-direct one, so I've seen the significance this organization has from a student's perspective as well as that of a director. * 
The benefits of growing up in a RDA company. There are so many, it's hard to know where to start.  Number one, if you're from a small town, the first time you get to see other people your age, your eventual competition for jobs, is at auditions for summer programs.  If you're a member of RDA, you get to see them every year in a more supportive environment.  You can see where you are compared to others your age and gauge for yourself what your strengths are and where you could stand to improve a bit.
Number two, again, if you are from a small town like I was, you never get the opportunity to perform outside your own little corner of the world.  Because festivals are held in different cities each year, I got the opportunity to perform in Harrisburg, Scranton, Philadelphia, Boston, Houston and Pittsburgh.  It introduced me to new audiences and new stages and venues for my art.
Number three, the scholarships.  Most summer programs give out scholarships during RDA festivals because they know the caliber of dancing these companies maintain.  There are even more opportunities now than when I was a kid including: ABT, Point Park University, National Choreographic Intensive, IBC summer program,  Joffrey Ballet and Boston Ballet just to name a few.
Number four, the ability to be scouted.  Most major university dance programs from around the country as well as some artistic directors of professional companies use this as a hunting ground for their next group of dancers.   The dance programs usually offer scholarships to people they are interested in and, in my case, told me I didn't even need to audition, I was in.
Number five, it helped me to create friends.  When I went to a summer program, I always had someone come up to me and say, 'I saw you dance a few weeks ago at Festival.  You're from Allegheny right?  Well, I'm from Pioneer Valley.' Bam, instant friendship.  This doesn't sound like much, but when you're away from home, this makes the difference between being terrified and being alright.
Number six, the teachers.  At Festival, you get three classes a day from some of the best teachers in the world.  You are exposed to different ideas and teaching styles and genres of dance you might not get at your small school at home.  I still remember some of things taught to me by teachers at different festivals I attended.  Also, since many of these teachers are first-rate, you find yourself running into the same teachers at prestigious summer programs as well and they remember you.
Number seven, the choreographers.  At a young age, I had the opportunity to work with many different choreographers.  Each year, we had at least three guest choreographers come in to set works that would be adjudicated for Festival.  Because of that, I got to experience what it was like for a choreographer to choreograph a part especially for me.  I got to dance several Balanchine works set by the Balanchine Trust.  A dancer doesn't usually experience these things until they enter the profession, but I experienced it at all before the age of 17.
Number eight, the networking.  I haven't danced for many years, but the connections I made as part of this organization are still going strong.  I know people from around the country who are affiliated with Purchase, Julliard, New York City Ballet, Pacific Northwest, Hubbard Street, Pennsylvania Ballet, just to name a very few.  The dance world, the serious dance world, is a very small place.  We all know everyone else and if not, you are only separated by a few degrees, you know someone that knows them.  This organization taught me that.  You run into the same people over and over again and through that, you develop important friendships.
The benefits of running a RDA company.   Other than the things it can do for your students which are listed above.  There are so many reasons to be a director of an RDA company.
Number one, to be a part of RDA your company must be a non-profit which is a pain at first, but opens up so many more opportunities for you in the long run.  It is easier to fund raise because all donations are tax deductible.  It opens you up to the possibility of grants from the local, state and national level.   It also means that you are a serious arts organization, which holds you to a higher standard and that is what RDA is all about.
Number two, feedback from the outside world.  When you are located in a small town, it's easy to become very insular.  By a different adjudicator coming every year, it gives you a fresh eye and perspective on your dancers.  Watching your dancers take class with others their age, shows you their weaknesses compared to their peers.  Plus, the dancers hearing from the adjudicator and other teachers the same things they have been hearing from you, reiterates for them the importance of your opinion and voice as a teacher.
Number three, watching master teachers.  Every year I come armed with my notebook and pen and watch as many classes as possible.  Teaching is the ability to say the same things a thousand different ways and to find what resonates for every student.  If a teacher cannot learn anything from watching other brilliant teachers, there's a real problem.   This year alone I got to watch teachers from ABT, Joffrey, Hubbard Street, New York City Ballet and the University of the Arts in Philadelphia.
Number four, networking.  The dancers aren't the only ones creating networks.  The directors can bounce ideas off each other, see the next generation of choreographers and hire them to work with their company, and see potential master teachers to bring in to work with their students one on one.
Number five, exposure.  Running a small, pre-professional company in a small town, it can be hard to find National recognition and footing, but not if you're an RDA company.  This organization has connections and relationships with every major dance organization, dance publication, college program and dance company in the country, mostly because former members of RDA companies are currently dancing in every single major American company.  The reach is astounding.
Every year I take a new group of students to participate in the RDA festival.  It's truly magical to see the inspiration, dedication, artistry and work ethic of the next generation of dancers, the creativity and innovation of the next generation of choreographers and the wisdom and high standards of the master teachers and my fellow artistic directors.   Where else in this country can the young generation and the dance establishment come together to showcase their best works, education and talent in a celebration of the art of dance?  Every festival I attend with my students brings back wonderful memories of my time dancing in the amazing organization called Regional Dance America and it feels a lot like coming back home.